May was a difficult period for the Cabrini Ministries' family as we have been dealing with several tragic deaths: the loss of two children and the loss of an employee.
A couple weeks ago, a family that is deeply connected with the organization lost their two small children when they drowned in the canal by their homestead where they were playing. Even in a nation that is unfortunately accustomed to death, this tragedy brought with it the deepest sense of grief and sorrow. It is pain upon pain when unforeseen death comes to those so full of life.
The mother, Nakiwe, was one of our brightest employees before she took a new job to be closer to her husband in Manzini. The father, Felix, is a police officer, but has worked with Cabrini in the education since he was a youth himself; he was apart of life on the mission even before the current sisters were. The grandfather was one of the major leaders in the church and in his chiefdom. Probably a quarter of our staff live within a couple kilometers of where the boys drowned.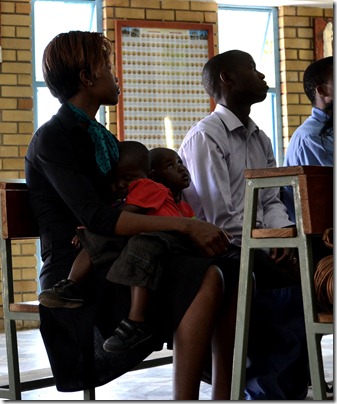 [Nakiwe, Sisandza,Tandziso and Felix Mabuza at the Feast of St. Philips]
Then, while our community was still grieving the loss of the Mabuza boys, we received word that one of our staff members who had been battling illness for a few months had died. Matthew was our night watchman and is the father of Mfundi, one of our drivers. This made his passing doubly painful for the Cabrini Family.
Matthew was beloved by the staff. Despite the fact that he was often soft-spoken, he would gladly share how blessed he felt through word and song ever change he got. Anytime we had a staff meeting where people were asked to share, you could always count on Matthew using the opportunity to preach and pray and even even sing.
Sister Barbara was always fond of saying tongue in cheek: "The only security issues we have are with our security staff." And while that may or not be true, what is unquestioned is that Cabrini as a whole was better off for having him as part of the staff.
[Matthew enjoying the buffet at the Child Protection training.]

These deaths certainly put our work and our own lives in perspective. We are often tempted to ask "Why?" But, in times of loss, sometimes it better to not try and find an answer for now; instead, we need to rest in the knowledge that is timeless. During our grieving, Sister Diane had this to say:
Times like these are a great mystery, and while we may never have an answer for the pain we feel, one thing never changes: God has eternal and perfect love for all people.
Even in difficult times like these, Cabrini Ministries is humbled to be working towards a larger vision of Restoring Life.